2018 Annual Pet Celebration
Save the date! Plan now to attend our next Annual Pet Celebration, The Life of Your Pet, on Sunday, January 28th at 2:00 p.m. Please refer to the invitation below for more information. Email ONE picture of your pet to pwwcelebration@gmail.com by January 1, 2018 to be included in the photo tribute.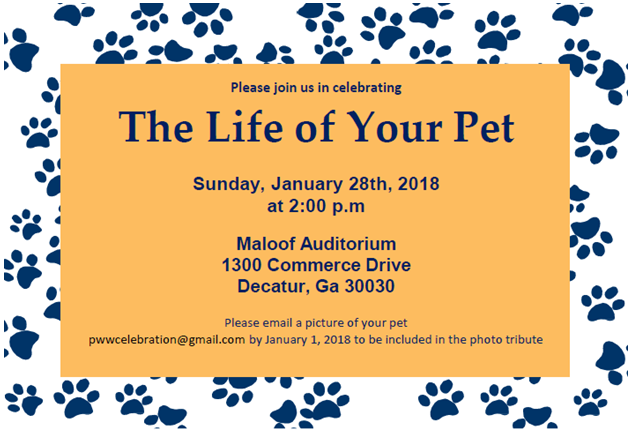 Each year, Paws, Whisker & Wags holds a Celebration of Life for all the pets that passed during the previous year. During our Annual Pet Celebration, we take the time to remember the irreplaceable role that our pets play in our lives, and honor their memories.
Below are just a few of the slide shows from the most recent Annual Pet Celebrations.
2017 Annual Pet Celebration Slide Show
2016 Annual Pet Celebration Slide Show
2015 Annual Pet Celebration Slide Show
2014 Annual Pet Celebration Slide Show
2011 Celebration of Life Ceremony
2011 Annual Pet Celebration Slide Show (Part 1)
2011 Annual Pet Celebration Slide Show (Part 2)