Paws, Whiskers & Wags is proud to host and support pet-related events in Northern Georgia and North Carolina. Get to know us before you need us. Take a look at some of the upcoming events and fundraisers in our area and plan now to join us.
Events in Atlanta, GA
Pet Loss Support Group
First Tuesday of Each Month, 7pm – 9:00pm
Hosted By: Paws, Whiskers & Wags, Decatur, GA
The heart knows no difference between losing an animal companion and losing a human loved one. There are many resources for people suffering from pet loss bereavement. The more you share your grief with others the stronger you will become. Take charge of your grief and your grief work will help you grow in ways you never thought possible. Space is limited so please RSVP for this event.
RSVP to Michael@pawswhiskersandwags.com
---
National Pet Memorial Day
Sunday, September 10th  10am – 11am
Hosted By: Paws, Whiskers & Wags and Southern Cremations & Funerals at Cheatham Hill in Marietta, GA
Join us in remembering and honoring all the beloved pets that have crossed over the "rainbow bridge." Please bring a picture of your deceased pet to place on our Remembrance Wall and release a biodegradable balloon in tribute to the joy they brought into your life. For more details, click on the flyer below.
For more info call 404.370.6000 or 770.919.7100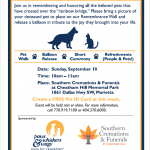 ---
Paws, Whiskers & Wags supports several local animal rescue and support foundations. Come visit our booth and get to know us — before you need us – at the following events:

Walk, Wag 'N Run
Saturday, Aug. 26th. The 5K starts at 8:45am.
Hosted By: Ahimsa House at Lenox Park in Brookhaven
Pace your pet at the Ahimsa House Annual 5K and 1K Fun Run! Everyone can bring their dogs for this run to benefit the animal and human victims of domestic violence. Of course, walkers/runners without canine accompaniment are welcome too! For more information go to http://ahimsahouse.org/walkwagnrun/
---
Pup-A-Palooza
Saturday, Sept. 9th 11am – 1pm.
Hosted By: The city of John's Creek at Mark Burkhalter Amphitheater, Newton Park
This fun event features live music, caricature sketches of people with their furry BFFs, and more. There are contests for Best Dressed Dog and Best Dog Trick.
For people, there will be free food (while supplies last), while pets splurge on doggie treats. Pet care vendors will be on hand to demonstrate new products and educate dog owners about pet care. For more information go to https://www.johnscreekga.gov/RecreationandParks/Special-Events/Pup-a-Palooza
---
Events in Charlotte, NC
Pet Loss Support Group
Second Tuesday of Each Month, 6:30pm – 8:00pm
Hosted By: Paws, Whiskers & Wags in Charlotte, NC
The heart knows no difference between losing an animal companion and losing a human loved one. There are many resources for people suffering from pet loss bereavement. The more you share your grief with others, the stronger you will become. Take charge of your grief and your grief work will help you grow in ways you never thought possible.
For more information please call 980-819-2504 or email CharlotteOffice@pawswhiskersandwags.com
---