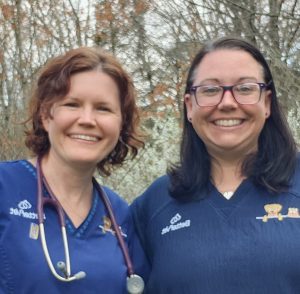 Dr. Goodknight and Kristy, BetterVet Charlotte
As experienced veterinary professionals who have also lost pets, we at BetterVet understand how difficult it is to allow your cherished family member to pass on. We feel strongly that doing this in the familiar comfort of your home is a wonderful last gift that you can give your companion, particularly if they are prone to veterinary-related anxiety. You will be able to create the exact environment that you desire in his or her favorite spot with whomever you would like to be present. Saying goodbye will be peaceful, unrushed, and as compassionate as possible. Please click here for more information about what home euthanasia looks like with us:  https://bettervet.com/services/euthanasia. If you desire, we also offer complimentary personalized mementos to help you treasure your companion's memory.
If you are uncertain as to whether it's time to say goodbye quite yet, please know that many pet parents wrestle with that very question! It can be an incredibly difficult decision to make on your own, so we offer full in-home quality-of-life consultations. We will examine your pet, answer all of your questions, and help you feel empowered to make the best decision when the time comes.
We are available on certain weekdays and every other weekend for your convenience. We may even be able to offer a same-day appointment if needed. To learn more about your dedicated NC BetterVet team or to book an appointment, please click here:  https://bettervet.com/vets/dr-rachel-goodknight
Charlotte, NC Coverage Area: