Christine Hunsaker
Owner & Founder
Christine Hunsaker is the owner and founder of Paws, Whiskers & Wags, Your Pet Crematory. The company was built on a strong foundation for the love and commitment to animals, especially her personal pets. Christine is one of the nation's leading cremationists and continues to build, run and lead some of the world's largest human cremation companies. It is her acute understanding of the honesty and integrity required to operate a sensitive cremation business that shelters and cares for the loved ones of others, that has built a business un-matched by others. Christine shares her home with her partner Kellie Rowker, a pet lover and a trauma nurse at Children's Healthcare of Atlanta; a chocolate standard poodle, Mocha Java; a black lab, Myrtle; two wonderful cats, Billy and Tigger; and a horse, Phoenix.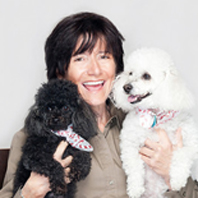 Dr. Cindi Branch
Co-Founder
Cindi Branch is a devoted pet lover and help found Paws, Whiskers & Wags – Pet Crematory, in 2005, following the death of her beloved poodle, Casey. She has twenty years of experience with the largest provider of funeral, cemetery, and crematory services in the world. Her passion for service is evident and she works to help pet owners through the grief process. Cindi initiated the Company's Grief Training program and helps maintain our strong relationship with the University of Georgia. An avid "Bulldawg," Cindi makes her home at Lake Oconee and shares it with her two Poodle kids, Rudy, and Lucky Girl. She enjoys the outdoors, boating, sports, movies, and reading.
Brett Newbern, VP of Finance
Brett and his family, originally from Florida, moved to Atlanta in 1998. He is an accomplished accounting professional with more than fifteen years of experience in the field. He is actively involved within the Tucker community and enjoys volunteering in his children's school PTA and coaching sports activities. Brett and his family are animal lovers and share their home with Charlie, a hurricane Katrina rescue (pictured), three gerbils, two bunnies, and several fish.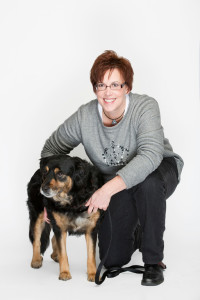 Nikki Hofland, General Manager, and Tobi
Nikki has called the Atlanta area home since 2003. Growing up, Nikki was the daughter of a GI, which gave her the opportunity to live in many places throughout the world. That explains her love of travel! However, her first love is spending time doting on her fur kid, Toblerone. Tobi is the official Dog Manager of All Operations, though she does have a tendency to nap on the job.
Nikki's extensive professional background as a Retail Operations Executive prepared her for the role of General Manager for all Paws, Whiskers & Wags locations. She feels gratification in her role as she assists fellow animal lovers in their time of need.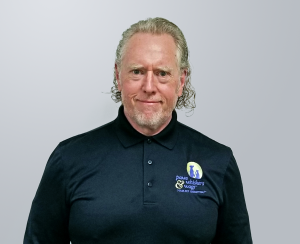 MacGregor Christner, Accounting Manager
MacGregor has a Bachelors Degree in Business Administration & Finance from the University of Texas at Austin. His professional experience is in finance and operations, including 11 years at Service Corporation International. His personal philosophy is to, "Discover a purpose that gives you passion, then develop a plan that makes you persistent." MacGregor has five children, ranging in age from 17 – 25. He enjoys art, photography, writing poetry, and working out.
Brian Thorp, HR Manager
Brian, an avid animal lover, relocated back to Atlanta after living in South Florida for 15 years to be closer to family and pursue a different career path. His professional career expands over 20 years in retail and human resources management.  Brian gradated from Keiser University with a Masters Degree in Business Administration, concentrating on Leadership. Upon graduation, Brian was awarded the honor of being the first secretary of Delta Mu Delta, Nu Phi Chapter, an International Business Honor Society in Ft. Lauderdale, FL. His main goal in everything he does is to help people, no matter what the situation, and is a strong believer in the motto "Everything happens for a reason." In his spare time, Brian likes hanging out with his fur-baby, Chloe, a wildly energetic mixed pup that he adopted from the Atlanta Humane Society just over a year ago, bowling, and trying out new things.
Michael Harris, Supervisor
Michael relocated to Atlanta from Kentucky in 1991. With over 30 years of combined experience in the customer care and animal care fields, including, several years managing the Atlanta Humane Vet Center front office, as well being the former owner/operator of Piedmont Pawz, one of Atlanta's most successful premier Canine Cardio & In-Home pet care providers for 16 years.  Michael joined the Paws, Whiskers & Wags pet crematory family in 2015 because he wanted to be a support to families and help them honor the memory of their beloved pets.   He is the loving parent of two very unique and special felines: Dude, a 16-year old Bombay mix, and Jinx a 5-year old Tuxedo.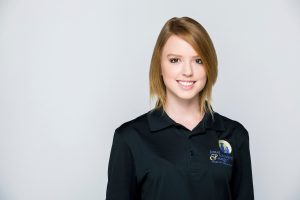 Mallory Meek,  Supervisor
Mallory went to the University of Arkansas in Fayetteville where she studied child development. She has previously been a manager in retail/customer service settings. Mallory grew up on a farm in Arkansas, so she has been surrounded by animals her entire life – from ferrets to cows! On the farm, she learned to love and care for many kinds of animals. Having experienced the loss of animals throughout her life, she strives to make others' hard times a bit easier. Her dream is to someday bring animals into a hospital setting to visit children and help make their stay go faster.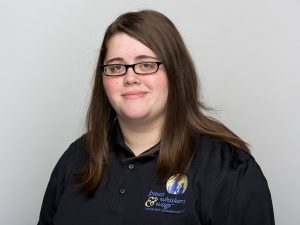 Ashton Salazar, Supervisor
Ashton is a senior at Reinhardt University studying psychology. She previously worked at a pet supply company but wanted a job where she could work more one-on-one with families. Her passions include helping people and caring for animals. As a former client of Paws, Whiskers & Wags, she wants to share her experience and make sure that other's loved ones are also cared for with respect and dignity. Ashton's hobbies include drawing, painting, music, and video games. She lives with a husky named Eezo.
Erin Schmidt, Supervisor
Erin was born and raised in Georgia has a Bachelor of Arts degree in Spanish and a minor in Sociology. She has over 12 years of experience in customer service and is a lifelong animal lover. In fact, Erin says she absolutely loves working with people who love animals as much as she does. She has two dogs (Moxie and Gidget) and enjoys running and participating in community theater.
Kalie Hutchinson, Supervisor
Kalie is originally from California but moved to Atlanta when she was 18. She has worked in customer service for over 5 years but is hoping to start school at the University of Georgia – Athens next year and study occupational therapy. She enjoys helping people, so she loves working at Paws, Whiskers & Wags where she can help someone every day. Kalie strongly believes that there is nothing more important than family, and she includes pets as members of the family. Pets are the family we choose, so she feels they should be treated the same way we would want to be treated.
Devan Wancik, Supervisor
Devan comes to PWW with experience as a K-9 trainer, veterinary technician, and art teacher. She also has previous industry experience in pet cremation. She enjoys traveling, riding motorcycles, skydiving, scuba diving, art, and music. She spends her free time hiking and camping with her fur babies, and loves anything outdoors.
Kimberly Tyler, Sales & Relations Manager
Kimberly has enjoyed a lustrous career in the animal health industry since 2001 selling animal nutrition for small animals with Nestle Purina Pet Care and equine nutrition for performance horses. She has also conducted stem cell clinical trials in small animals and worked at Zoo Atlanta as an educator and in behavioral research with orangutans. She loves animals and feels that they make great teachers. Kimberly says that animals speak a great language and provide humans with a key to wisdom. Even as a child, she knew that her life would be dedicated to the well being of all animals.
Kimberly is involved with animal conservation efforts (Great Ape Conservation Fund & 96 Elephants) and enjoys spending family time hiking and cooking with her husband, daughter, and their three dogs.
Adrian Thomas, Logistics
Adrian graduated from high school and then served in the United States Air Force where he was a Fuel Driver. He took this position because he loves pets and loves seeing the smiles on our customers' faces. Adrian loves shooting pool, playing Jazz piano, and singing. He also has two pit bulls (Missy and Red) that are full-blooded blue noses.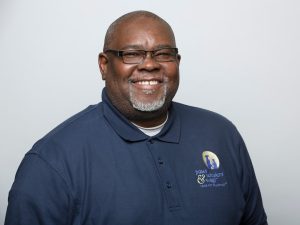 Anthony Gregory, Logistics and Operations
Anthony has experience in transportation and a CDL-A license. He enjoys the service he provides to our families and likes to establish relationships with the veterinary clinics that the company serves. He enjoys spending time with his family and participating in sports, fishing, and watching sports.
Brooke West, Client Relations
Brooke recently joined Paws, Whiskers & Wags and loves helping families through difficult situations.  Although this is her first job in the industry, she has had plenty of personal losses with family pets.  Brooke has a bachelor's degree in business administration and loves basketball, running, and making a goof of herself.  She considers herself to be loyal.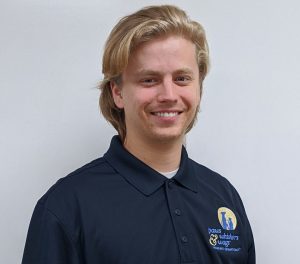 Cameron Roper, Logistics
Cameron has always been a lover of animals, believing that our pets are family and should be treated as such.  Paws, Whiskers & Wags was there for him when he needed it, now he is there for the families when they need PWW.  Cameron is currently pursuing a degree in Chemical Engineering at GA University and is an Eagle Scout.  He is number 3 of 5 children and just married his best friend.  Cameron and his wife take care of 2 of their own four-legged children.
Debra G. Hunsaker, Marketing Director
Debbie has a Bachelor of Arts in Communications/Public Relations from Weber State University and has over 18 years of experience in sales, public relations, marketing, and journalism. She's been a public relations director, managing editor and lead reporter for a community newspaper, and client relations/business development manager for a marketing company. Specialties include copywriting, scriptwriting, social media, and developing strategic marketing campaigns. Debbie and her husband Robert are originally from Utah and have three children. Her hobbies include spending time with her family, reading, boating, fishing, and volunteering in her community. They have a rescue cat named Grey Kitty and a rambunctious labradoodle named Bella.
Kayla Schaffer, Client Relations
Kayla strives to use her experience of the loss of her beautiful dog, Miko, to help others that are going through a similar experience.  She has experience in customer service and a BA in Political Science.  Kayla has family all over the U.S. from California to the Virgin Islands and loves exploring Atlanta with her boyfriend.
Kimberly Bell, Accounting Specialist
Kimberly has a Bachelor of Arts in Business Administration and over 15 years of experience in accounting, administration, and payroll. She has always enjoyed finance because math and accounting come easily to her. Kimberly particularly enjoys helping other people, whether on the job or in the community. As a professional actor and singer, she's had parts in movies, TV shows, and a web series. She has two children and enjoys watching movies and traveling.
Kirra Brooks, Logistics
Kirra comes to us with 4 years of vet tech experience and 2 years of kennel tech experience.  She loves animals and loves to see them being taken care of when they cross the rainbow bridge.  Kirra loves playing with animals and listening to music and has two sisters, a niece, and 2 pit bulls.
John Edgerton, Logistics
John has a Bachelor's degree in English Literature from the University of South Carolina and has previously worked as the Environment and Program Coordinator at Spartanburg Science, where he developed and presented wildlife programs and cared for a wide array of native and exotic reptiles. John has loved animals and wildlife since he was a child and is a songwriter, music lover, birder, and amateur naturalist. He and his wife Kathryn enjoy exploring our country's national parks and have two dogs, Winnie and Josie, and a cat, Luna.
Levi Woody, Logistics
Levi Woody, who is pictured here with his cat, Spock, was born and raised in the Atlanta area. A lifelong animal lover, Levi used to breed crested eye lash geckos when he was a kid. He loves working at Paws, Whiskers & Wags because he has a passion for animals, and his role here allows him to honor the lives of their loved ones.
LJ White, Logistics & Operations
LJ attended Georgia State for 3 years to obtain a degree in Biology/Veterinary Technology and he has been married to his beautiful wife of two years, knowing each other for 20 years. Animals have always been a part of LJ's life and for the last seven years, he has taken care of them through behavioral training and dog grooming.  LJ found a great place in Paws, Whiskers & Wags as he can combine his love for animals, and his passion for helping people, together.  Working at Paws, Whiskers & Wags, LJ's perception of life and death has changed and opened his eyes to appreciate what he has – a whole lot more.
Morgan Higginbotham, Operations
Morgan is very proud of the industry that she works in because she is a lifelong animal lover/owner and is comfortable with the aftercare that she can provide for loved ones.  Morgan has attended Georgia Perimeter College, is currently researching furthering her education in Mortuary Science, and has been certified in Taxidermy for 18 years.  Her love of taxidermy comes from being able to create an everlasting version of beautiful animals.  Morgan has had 15 dogs, 6 cats, 3 snakes, a rat, a hamster, and a bird and in her spare time enjoys singing in an Atlanta-based band, burlesque, thrift shopping, and art.
Netanya Cross, Client Services
Netanya joined the Paws, Whiskers & Wags team with 11 years of industry experience in the veterinary field. Caring for animals is her passion, and she also enjoys traveling, hiking with her dogs, and spending time with her family.
Rob Hoff, Operations, Team Lead
Rob has a Bachelor of Fine Arts degree from Ball State University. He has been blessed by loving animals his entire life. He says that if anything has made him a better person, it's been the special kinship he's shared with "such wonderful creatures." This attitude is represented in the dignity and care Robert gives to each pet, and their families. Rob enjoys the great outdoors and enjoys helping others to make their "world glow a little brighter."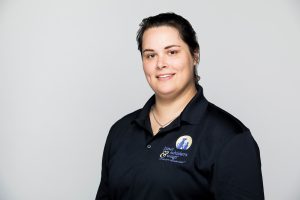 Sarah Tindle, Client Relations & Operations
Sarah has an Associate of Science degree and has always worked in the pet industry in a variety of positions: dog walker/sitter, pet store associate, and dog hotel associate. Because she has a "zoo of her own," she knows how hard it is to lose a loved one, no matter the size or species. She treats each pet in her care as if it were her own. Her life revolves around animals! Her "zoo" consists of 3 cats, 3 dogs, 2 ferrets, 4 fish tanks, 12 rats, 2 mice, and 2 horses. Whether she's at home or at work, Sarah wants each animal to feel completely cared for and loved.
Shannon Smith, Client Relations & Operations
Shannon is currently attending the University of Georgia-Athens and is PCPA certified. She previously worked for a national funeral services company and pet cremation company in New Orleans. She enjoys working for Paws, Whiskers & Wags because she likes to help families get closure, with compassion, during their time of need. Shannon loves animals! She has 4 cats, 10 reptiles, and 8 fish tanks.
Sid Smith, Property Facilities Manager
Sid has a Bachelors's Degree in Fine Arts from Rhode Island School of Design and over 15 years of experience in construction, renovation, and woodworking. If it's broken, he can fix it! He also loves art and science. Sid has two wonderful children, a dog, three guinea pigs, and three birds.
Stephanie Macz, Operations
Stephanie is CERT/CART certified and has completed college courses for veterinary technology. She has volunteered at many pet shelters and assisted with fosters and rescues. She also works at a local animal hospital. Stephanie has had her dog for 8 years and they love to travel together — in fact, they have traveled all over the country! Her philosophy is that we all come from different walks of life, but one thing we can all relate to is the bond we have with our pets. She considers it an honor to make keepsakes for our families to help them remember their loved ones and help pets transition to "the gates of heaven." Stephanie likes to cook, travel, and work in haunted houses. She considers the world her home, and her family is everyone she meets.
Tristan Rounkles, Logistics
Tristan has taken some college classes and plans to go back to school to earn a degree in Communications. Although this is his first position in the aftercare profession, he has driven for several other companies in the past and has experience in the pet product industry. Tristan loves animals and believes they deserve respect in their life AND after passing. He truly views pets as "family." Tristan has a furry family member of his own, a Shih Tzu, named Cook. He enjoys writing, cooking, learning new skills, and catching up on TV in his spare time.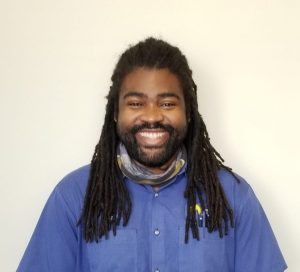 Tyrone McGhee, Logistics
Tyrone has nearly five years of professional animal care experience, both medical and in the hospitality side of animal care. A self-professed video game and pro wrestling fan, he also has over a decade of customer service and management experience. He loves cooking, baking in particular, and working with his hands. He loves to work in the garden, craft sculptures from clay, and to build props and costumes. Tyrone chooses to work with animals because he feels that pets are more than just animals–they are forever friends.