Please join us for our 15th Annual Pet Celebration on Sunday, January 26, 2020, at Maloof Auditorium at 1300 Commerce Drive in Decatur. At this event, we honor and grieve our pets that have passed away during the previous year.

The highlight of this celebration is always our Candlelight Vigil and The Life of Your Pet video which includes pictures of pets that we said goodbye to in 2019.

You are invited to submit ONE (1) picture of your pet by January 10, 2020. Click the link below to submit your picture. Scroll down to view videos from past Annual Pet Celebrations.

For questions, please call 404.370.6000.
---
---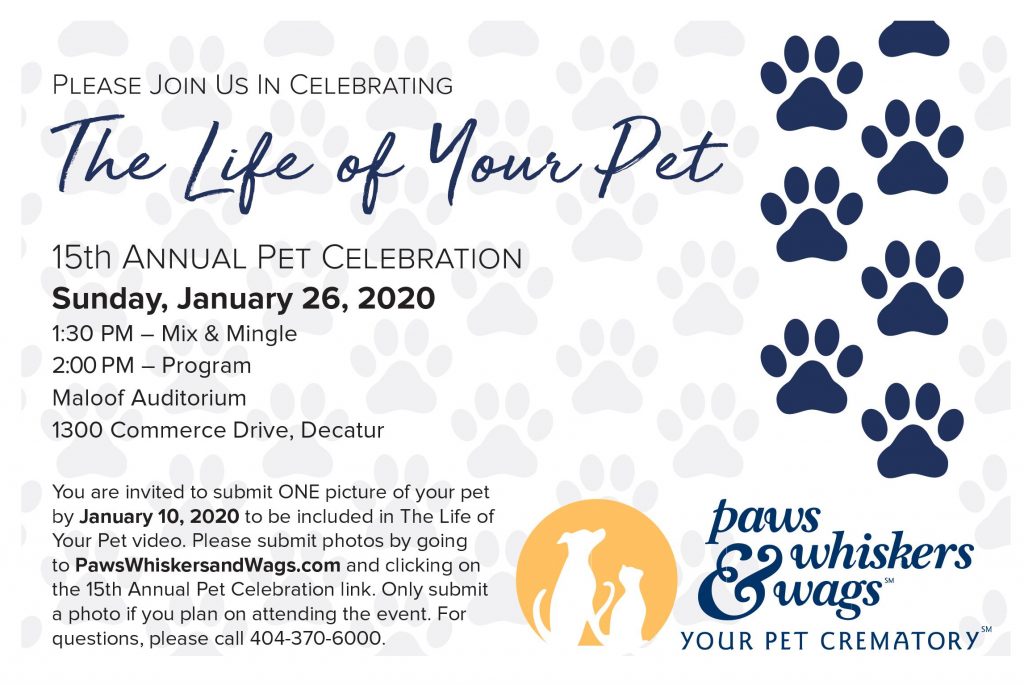 Annual Pet Celebration Slide Show
Each year, Paws, Whisker & Wags holds a Celebration of Life for all the pets that passed during the previous year. During our Annual Pet Celebration, we take the time to remember the irreplaceable role that our pets play in our lives, and honor their memories.
Below are just a few of the slide shows from the most recent Annual Pet Celebrations.
2019 Annual Pet Celebration Slide Show
2018 Annual Pet Celebration Slide Show
2017 Annual Pet Celebration Slide Show
2016 Annual Pet Celebration Slide Show
2015 Annual Pet Celebration Slide Show
2014 Annual Pet Celebration Slide Show
2011 Celebration of Life Ceremony
2011 Annual Pet Celebration Slide Show (Part 1)
2011 Annual Pet Celebration Slide Show (Part 2)
2011 Annual Pet Celebration Slide Show (Part 3)