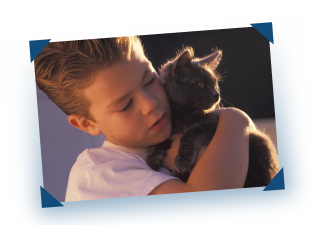 With more than 60 years of combined cremation experience, Paws, Whiskers & Wags, Your Pet Crematory, helps owners find comfort and assurance in the knowledge that the last decision they make for their pet is the right one. Each member of our compassionate team understands the importance of cremation integrity, and has a profound love for pets in both life and death.
What Makes Paws, Whiskers & Wags Different
At Paws, Whiskers & Wags, we understand that pets are more than companions we keep—they are important members of our families, and fill an irreplaceable role in our everyday lives. We cremate each pet alone, and with the use of our patented Pet Tracker 360®, we are able to guarantee that the cremains that are delivered to you are those of your beloved pet.
Because our state-of-the-art pet cremation facility is on-site, we are able to provide same day services. This means that bereaved owners can say goodbye in our private viewing room, and will receive the ashes on the same day of their pet's passing.
Over the years, we have built strong relationships with our veterinarian and home euthanasia partners, and are committed to maintaining an open door policy by providing pet owners with comprehensive information about all available pet cremation and memorial options.
Pet Loss Support offered in Atlanta
Paws, Whiskers & Wags offers a free monthly Pet Loss Support Group designed for adult clients. The group is led by Michelle Nelson, LCSW, BCD who is a licensed Clinical Social Worker. She has over 12 years of experience in group and individual therapy. Michelle loves animals and she and her partner currently have 3 rescued dogs: Tulip, Lotus and Yuli. We encourage you to come share your story, or just listen and find support.
Our Pet Loss Support Group sessions are held on the First Tuesday of Each Month from 7:00 PM to 8:30 PM at our Decatur location.
TO REGISTER & RESERVE YOUR SPACE: Please email Michael at Michael@PawsWhiskersandWags.com
Pet Loss Support offered in Charlotte
The Charlotte support group session will be rescheduled at a later date due to a scheduling conflict with the therapist. Please check back soon for the rescheduled date and time. Thank you.
Paws, Whiskers and Wags also offers a free support group on the first Tuesday of each month. These sessions are designed for adult clients led by licensed marriage and family therapist associate, Jordan Tadlock, MA, LMFTA. Jordan has worked in the area of grief and loss for 3 years. She most recently has worked for Kindermourn, counseling and leading groups with bereaved children and adolescents. Jordan has also worked in the field of addiction for the last 5 years, facilitating groups for family members at the Dilworth Center. She currently has a private practice in South End. Jordan received her BA from University of North Carolina in 2010 and her MA from Pfeiffer University in 2014. As a native Charlottean, she is familiar with various services available to families and pet owners in the area. Jordan identifies herself as a huge animal lover and understand the devastating experience of losing a pet. Jordan currently comes home to a 9-year-old yellow lab named Maggie.
TO REGISTER CALL 980-819-2504, or EMAIL CharlotteOffice@pawswhiskersandwags.com
In the Community
Paws, Whiskers & Wags is an active member of the Atlanta community, and is proud to support a variety of animal rescue organizations, pet events, and local pet-related businesses. Our pet cremation facility is also a proud sponsor of the Georgia Veterinary Medical Association, as well as a member of the Pet Loss Professionals Alliance.
Contact Paws, Whiskers & Wags, Your Pet Crematory
Our expert team is available 24 hours a day by phone at (404) 609-1072 in Atlanta or 980-819-2504 in Charlotte. Contact Paws, Whiskers & Wags to learn more about our pet cremation options and arrangements.